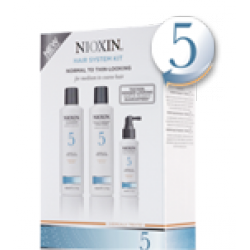 Nioxin
Nioxin System Kit 5
NZ$69.00
Normal to thin looking, medium to coarse natural or chemically treated hair.
3-Part System
* NIOXIN Cleanser - Helps to remove follice clogging sebum, fatty acids and environmental residues from the scalp, skin and hair. Cleanses to provide thicker looking hair.
* NIOXIN Scalp Revitaliser - Is a lightweight conditioner tghat helps provide hair reslience and control moisture balance.
* NIOXIN Scalp Treatment - Is a cosmetic product that contains antioxidents and botanicals that help provide a refreshed scalp environment.